Sustainability Promotion Structure
Approach to Sustainability
The NISSIN FOODS Group is keenly aware of our corporate social responsibilities, compling with relevant laws in the course of daily business operations, and acting in accordance with social ethics in keeping with the spirit of founder Momofuku Ando. This spirit is expressed in four tenets: "Peace will come to the world when there is enough food," "Create foods to serve society," "Eat wisely for beauty and health," and "Food-related jobs are a sacred profession."
Establishing the Sustainability Committee
A fundamental premise of the NISSIN FOODS Group, which is made up of companies that produce food products, is the creation of safety management systems that ensure the supply of products that customers can eat with reassurance. It is crucial that we reduce the impacts caused by our business activities on the environment and society and increase positive effects so that we can achieve compatibility between the Group's business and the sustainability of the environment and society.
Therefore, in April 2020, the Group established the Sustainability Committee—chaired by the CEO—with five working groups under it. The committee's office is formed by the Corporate Planning Division, the Environmental Promotion Division, and the Sustainability Promotion Office of the Corporate Communications Division. Each working group includes participants from the relevant departments.
Sustainability Promotion Structures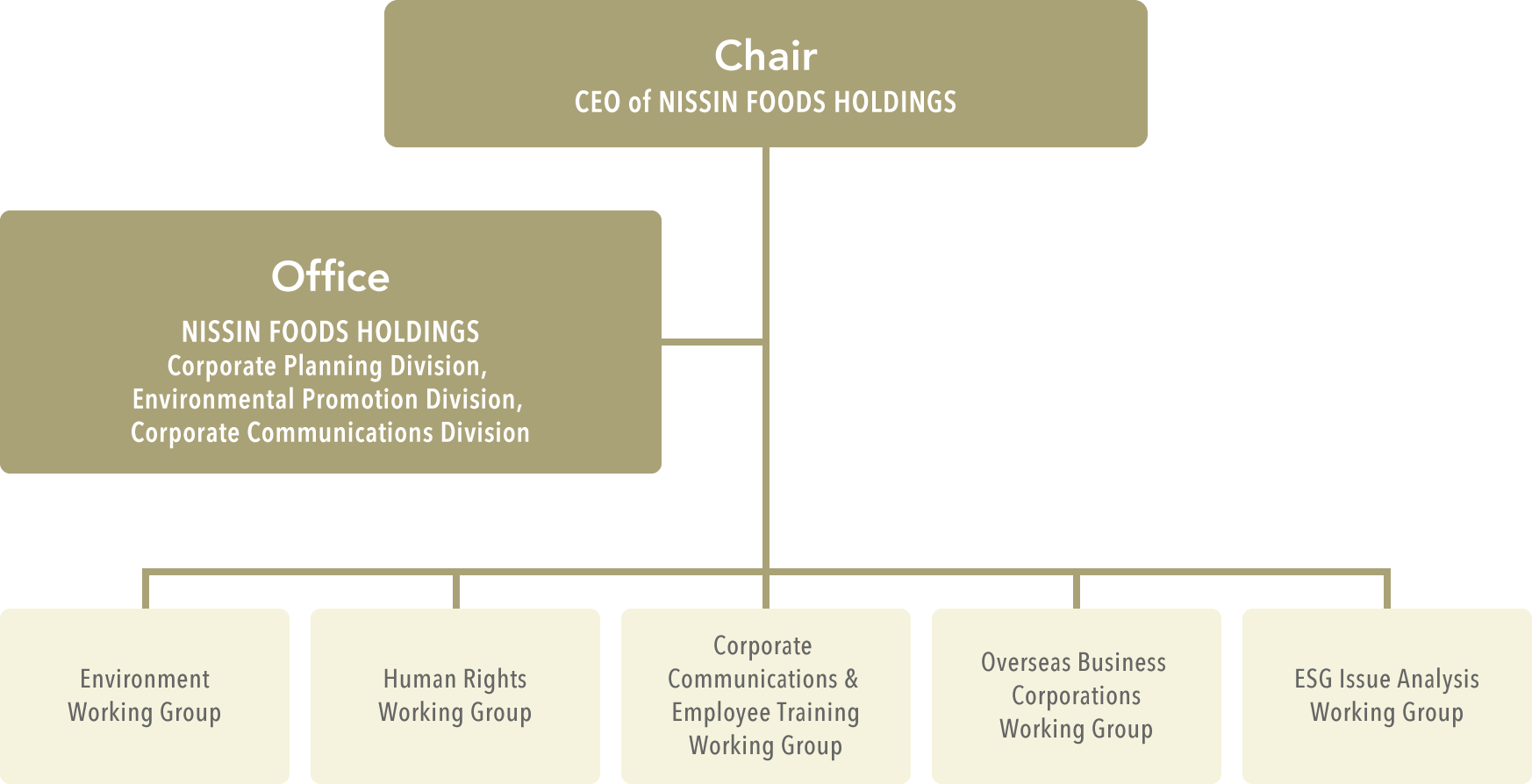 Policies
In accordance with various policies, we are fulfilling our social responsibilities from development and the procurement of raw materials, through to product manufacturing, transport and sales. (Refer to the diagram of the sustainability model above.)
・

Code of Conduct

・

Anti-Bribery Policy

・

NISSIN FOODS Group Policy on Human Rights

・

Voluntary Declaration of Consumer Orientation

・

Environmental Charter

・

Basic Policy on Green Procurement

・

Basic Policy on Environmentally Friendly Container and Packaging Design

・

Nissin Group Policy on Sustainable Procurement

・

NISSIN FOODS Group Declaration of Health and Productivity Management
Dialogue with Stakeholders
The Group is actively carrying out dialogue with stakeholders, including consumers, suppliers, shareholders/investors, local communities/government and employees.
・

Consumers : We take the initiative in seeking input from consumers as part of our efforts to make better products.

・

Suppliers : We are committed to the development of good relationships with our suppliers, including fair dealing in all purchase transactions and contracts.

・

Shareholders/Investors : In addition to the timely distribution of accurate information, we are also intent on appropriate profit return to shareholders and investors.

・

Local communities/ Government : We work in close cooperation with local communities, while contributing to their sustainable development.

・

NPOs/NGOs : The Group works with NPOs/NGOs to solve environmental and social issues.

・

Employees : The Group creates a workplace environment in which all employees can find satisfaction in their jobs and can give full scope to their abilities.
Employee Awareness Activities
The Group nurtures employee awareness on sustainability through the dissemination of messages by the CEO of NISSIN FOODS HOLDINGS, who is also chair of the Sustainability Committee. The Group also informs employees of social and environmental issues, various basic policies and SDGs, common knowledge, mainly through various training sessions and the Group's in-house newsletter. In addition, changes in employees' awareness of the company's environmental considerations and its degree of contribution to society are being grasped by conducting an annual employee attitude survey.
Results of employee attitude surveys

Scope:Employees who are employed by NISSIN FOOD PRODUCTS (including employees seconded to NISSIN FOODS HOLDINGS, NISSIN CHILLED FOODS, NISSIN FROZEN FOODS, etc.), MYOJO FOODS, NISSIN YORK, and NISSIN CISCO.

| | FY2019 | FY2020 |
| --- | --- | --- |
| The company conducts businesses that take the environment into consideration. | 59% | 64% |
| The company is contributing to society via its businesses. | 81% | 80% |
Contributing Toward the Achievement of SDGs
The NISSIN FOODS Group is a signatory to the United Nations Global Compact and takes action to carry out the Ten Principles in the following four areas of the Compact: human rights, labor, the environment, and anti-corruption.
The Group is also working to achieve the Sustainable Development Goals (SDGs), which consist of 17 goals and 169 targets for the world by 2030. In particular, we view the growth of ethical consumption, which is the improvement of consumer health awareness and the selection and purchase of environmentally- and socially-friendly products, as a prime chance to expand business opportunities.
The Group will continue undertaking business activities with the aim of creating a sustainable environment and society.
Solving Environmental and Social Issues through Business
2 ZERO HUNGER

Provide instant noodles free of charge to support disaster-stricken areas and needy people

3 GOOD HEALTH AND WELL-BEING

Development of products for health-conscious customers

4 QUALITY EDUCATION

Donate a portion of product sales to the United Nations WFP and the Bellmark Educational Support Foundation

12 RESPONSIBLE CONSUMPTION AND PRODUCTION

Use sustainable raw materials, including Roundtable on Sustainable Palm Oil (RSPO)-certified palm oil and Forest Stewardship Council® (FSC)-certified paper

14 LIFE BELOW WATER

Reduce the amount of petroleum-based plastics used in containers and packaging

15 LIFE ON LAND

Use of Plant-Derived Meat Alternatives and Development of Cultured Meat Products
The Ten Principles of the UN Global Compact
Human Rights
Principle1
Businesses should support and respect the protection of intentionally proclaimed human rights; and
Principle2
make sure that they are not complicit in human rights abuses.
Labor
Principle3
Businesses should uphold the freedom of association and the effective recognition of the right to collective bargaining;
Principle4
the elimination of all forms of forced and compulsory labour;
Principle5
the effective abolition of child labour; and
Principle6
the elimination of discrimination in respect of employment and occupation.
Environment
Principle7
Businesses should support a precautionary approach to environmental challenges;
Principle8
undertake initiatives to promote greater environmental responsibility; and
Principle9
encourage the development and diffusion of environmentally friendly technologies.
Anti-Corruption
Principle10
Businesses should work against corruption in all its forms, including extortion and bribery.