The "Hyakufukushi Project"
The NISSIN FOODS Group carries on the spirit of founder Momofuku Ando, who enthusiastically engaged in activities to contribute to society. Since 2008, the company's 50th anniversary, the NISSIN FOODS Group has been implementing the Hyakufukushi Project to engage in a total of 100 social contribution activities in 50 years. Five themes guide project selection: Creation, Food, The Earth, Health, and Children. The NISSIN FOODS Group will continue to contribute to a brighter, richer future through the Hyakufukushi Project.
Project No.26 (December 2019–February 2020)
Let's All Think About Plastics Together! NISSIN Plastic Education Project
This project covers activities to deepen the awareness of the general public and NISSIN FOODS Group employees about the plastic waste problem.
For the public, workshops were held at CUPNOODLES MUSEUM Yokohama in February 2020. During the workshops, the Resources and Waste Recycling Bureau from the City of Yokohama introduced plastics problems and measures in daily life in an easy-to-understand manner. This was followed by participants making original pouches using the packaging film of Chicken Ramen under the guidance of VVV-Craft (Osaka Prefecture), an NPO which is accredited by Minoh City. A total of 113 pairs (226 participants) of parent and child took part during the two-day period.
In addition, at the seminar attended by 112 NISSIN FOODS Group employees held in December 2019, the Environmental Regeneration and Material Cycles Bureau from Japan's Ministry of the Environment together with the Development Education Association and Resource Center—an NPO—introduced the current state of the plastic waste problem in various countries and trends regarding regulations.
Project No.25 (August–November 2019)
Keep Your Pantry Stocked for an Emergency: The Rolling Stockers
This is a project to raise awareness and encourage the practice of Rolling Stock, which is a way of stockpiling where items are bought and replenished while consuming them on a regular basis. Rolling Stock is gaining attention as a method that allows people to lead a diet close to daily life even in unexpected times when large-scale natural disasters occur, such as earthquakes and torrential rains.
People who practice Rolling Stock as well as encourage this practice in the people around them are called "Rolling Stockers." As Rolling Stockers, approximately 400 executives and employees of the NISSIN FOODS Group conducted awareness-raising activities—such as distributing original pamphlets at events and supermarkets all over Japan—from August to November 2019.
In recognition of these efforts, NISSIN FOODS HOLDINGS was presented with the Best Resilience Award in the Business and Industry Category of the 2020 Japan Resilience Awards.
Project No.24 (October 2018–March 2019)
Nissin EARTH FOOD ­WALKER Project
This project matches the promotion of employee health with support for children afflicted by hunger and poverty. From October 1, 2018 to March 5, 2019, the approximately 400 participating employees walked with a goal of reaching a cumulative walking distance of 10 earth circumferences.
The goal was achieved during the project period, and accordingly, the Group donated ¥1 million to the United Nations WFP school feeding programme.
Project No.23 (September–October 2018)
Forewarned is Forearmed! Chicken Ramen Survival Project
To help children develop initiative, this project provided education on survival skills beneficial following a disaster and the utility of instant noodles. NISSIN FOODS Group held workshops (eight sessions) at KIBOTCHA, a lodging facility in Miyagi Prefecture. The training happened over a four-day period, including National Disaster Prevention Day. Children were provided with easy-to-understand instruction from experienced professionals where they learned knowledge useful in an emergency and survival techniques, as well as how to start a fire (using flint or a magnifying glass), purify water, and prepare Chicken Ramen using those skills.
Project No.22 (June 2018)
NISSIN BAZAAR -New Outfit, New Work-style!
As part of an effort to improve employee work-life balance and productivity, in January 2018, NISSIN FOODS Group began designating two days per week when employees can dress casually. On June 8, 2018 at the NISSIN FOODS HOLDINGS Tokyo Head Office, Group employees donated clothing and other unwanted items (including suits that were now worn less frequently) to sell at the NISSIN BAZAAR. The Group donated a total of ¥1,000,000 (¥651,792 raised at event plus ¥348,208 donated by the Hyakufukushi Project) to the Fund to Support Children's Future.
Project No.21 (December 2017–July 2018)
"Sleep Smart, Work Smart," Sixtieth-Year, 60-Year Sleep Project
In order promote the positive effects of sleep on health and productivity, NISSIN FOODS Group had 400 participants wear activity monitors to record the quality and quantity of their sleep. When they collectively reached a total sleep time of 60 years (531,000 hours), the Group donated ¥600,000 to the United Nations World Food Programme's school meals program and ¥450,000 to the Fund to Support Children's Future. It also made additional donations of ¥200,000 to the United Nations World Food Programme's school meals program, respectively based on achievement of its Smart Work 2000 overtime reduction and paid leave usage targets.
Project No.20 (January 2018)
Super Rare Ancient Earthenware Project
A hands-on pottery-making project was aimed at deepening children's understanding of ancient Japanese culture through knowledge of Jomon era earthenware vessels, a revolutionary invention that changed Japan's dietary culture. From January 17 to 22, the CUPNOODLES MUSEUM in Yokohama hosted an exhibition of Jomon pottery replicas and an educational exhibit of Jomon era culture and customs. On the weekend, January 20 and 21, 196 parents and children selected by lottery got to fashion their own one-of-a-kind Jomon earthenware-style CUP NOODLE crock (to hold and serve one package of CUP NOODLES).
Project No.19 (November 2017 -March 2019)
Komoro Endangered Bugs Biotope Project
The Komoro Endangered Species Biotope Project is a social contribution activity aimed at conserving an ecosystem and increasing biodiversity. On the grounds of the Momofuku Ando Center in the mountains northwest of Tokyo, near Komoro City, NISSIN FOODS Group employees created a biotope. It provided an environment to support insects, including an endangered species of butterfly that inhabits Komoro. Following completion of the biotope, we prepared a digital picture book of 100 insect species compiled from photographs taken by the biotope's visitors.
Project No.18 (January - December 2017)
"Fantastic Chopsticks!! Forest Conservation" Project
Due, in part, to forest industry decline, Japan's forests are being insufficiently maintained, degrading their ability to absorb carbon dioxide and increasing landslide and avalanche risks. This project aimed to help conserve a Japanese forest and effectively utilize a renewable resource. In January 2017, 34 NISSIN FOODS Group employees thinned trees at a forest in Yoshino, Nara Prefecture. Then, from June to December, 950 employees visited the forest to take turns making 15,000 hand-made chopsticks from the felled timber, which they passed out to shareholders and to consumers at school sports events.
Project No.17 (December 2016 - April 2017)
Seven Summits Stair-Climb Challenge
One in nine people in the world goes hungry, and in Japan, about one in six children is said to live below the poverty line. NISSIN employees climbed stairs, and when the total height matched one of the seven continents' highest peaks, the Group donated ¥240,000 to the United Nations World Food Programme (WFP), with a ¥1,000,000 bonus for all seven summits. More donations went to Japan's Fund to Support Children's Future. All goals were reached in 19 weeks.
Project No.16 (November 2016)
"Peel off and Deliver Food. Stickers of Life" Project
Large photographic panels made up of 3,200 peel-off stickers have been installed at the CUPNOODLES MUSEUM and The Momofuku Ando Instant Ramen Museum. Museum visitors who make a donation of ¥100 can peel off a sticker. As the stickers are removed, the photographs on the panels gradually change from scenes of pitiful hungry children to scenes of smiling children enjoying school lunches, visually communicating the beneficial impact of the ¥100 donations in combating hunger.
Project No.15 (April 2016 - September 2016)
"Nissin Walking for Charity Project—to the Moon: 9,000 Steps Each Day"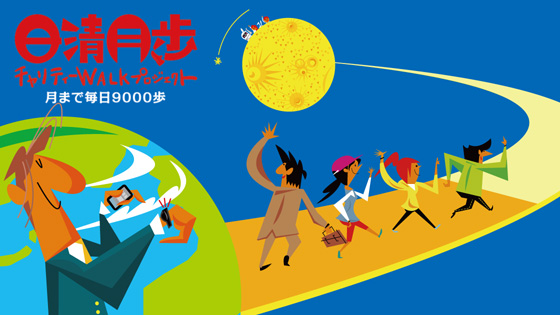 Child hunger and malnutrition, affects one in four children worldwide. The NISSIN FOODS Group donated ¥100,000 (approx. $900) to the United Nations World Food Programme (WFP) each week that the average daily steps per participant exceeded 9,000. The project ran 21 weeks until the combined distance walked by participants equaled the distance from the Earth to the Moon (384,400 km).
Project No.14 (October 2015 - November 2015)
"Nissin Speed Running" Project
Kenyan athletes of NISSIN FOODS Group Track and Field Team together with Japanese athletes visited elementary schools in the area devastated by the Great East Japan Earthquake. This project provided good opportunities for children to gain further understanding of different cultures, and to learn proper running form, which is the basis for all kind of sports.
Project No.13 (April 2015 - October 2015)
"One-Ton Weight Loss Challenge" Project
The thirteenth Hyakufukushi Project is a voluntary project for employees of the NISSIN FOODS Group. Participants are dieting during the six-month project term, and for each kilogram of weight they lose the Group will donate ¥5,000 to a United Nations World Food Programme (WFP) school meals project.
Project No.12 (May 2014 - July 2014)
"NISSIN Employee Disaster Preparation Training" Project
Employees learned to protect themselves and save the lives of others in an emergency: mental attitude for an emergency, crisis management, how to provide food assistance using Kitchen Cars (with on-board water heaters for instant noodles), and simulated experience of life at an evacuation center.
Project No.11 (October 2012 - February 2015)
"Let's have some run!" Project
At project start, about 210,000 evacuees from the Great East Japan Earthquake lived in temporary housing or with relatives. The NISSIN FOODS Group Track and Field Team, visited schools teaching workouts and running races with the children, providing fun, active learning opportunities.
Project No.10 (October 2012 - March 2013)
The All Japan "Ikumen" Menu Contest
Fathers and children collaborated to create original recipes using instant noodles. "Ikumen" ("nurturing with noodles") is a term we created for fathers building a deeper bond with their children by preparing food together, specifically instant noodles.
Project No.09 (August 2012)
The Canned Chicken Ramen & Cup Noodles Project
Since the Great East Japan Earthquake, the Japanese have become sensitized about supply disruptions following major natural disasters, so we invented canned versions of Chicken Ramen and Cup Noodles that can be stored for three years, and donated 50,000 units to three cities that are especially vulnerable to future earthquakes.
Project No.08 (July 2012 - March 2013)
The Brighter Future for Tohoku Project
The children of Iwate, Miyagi and Fukushima prefectures, areas devastated by the Great East Japan Earthquake, were invited to CUPNOODLES MUSEUM. They had fun while learning about Momofuku Ando's spirit of never giving up and the importance of inventions and discoveries.
Project No.07 (July 2011 - April 2013)
"Kids, Come into the Kitchen!" Project
We conducted nutrition and cooking classes for children. We offered children experiences in cooking that raised their interest in the tastiness, enjoyment, and goodness of food they made themselves. Their experiences fostered gratitude for good food and a keener knowledge of nutrition.
Project No.06 (September 2010 - March 2013)
The "Run and Eat" Children's Education Project
Children are nurtured to acquire proper running and eating habits. The athletes of NISSIN FOODS Group Track and Field Team visit elementary schools to explain to the children the importance of nutrition and sports.
Project No.05 (March 2010 - November 2012)
The Support for Employees' Great Volunteerism Project
We support our employees' voluntary efforts to contribute to society. By providing part of the financing for these activities, we make it possible for our employees and their families to make serious efforts in volunteer activities.
Project No.04 (March 2010 - Mach 2014)
The Living with Hot Water Project
Given that hot water is essential to cook instant noodles, this project advocates methods of reducing CO2 emissions produced when boiling water. Through our website and other channels, we point out how easy steps can be taken to cut the CO2 emissions.
Project No.03 (August 2008)
The "Canned Chicken Ramen" Just-in-Case Project
To mark the fiftieth anniversary of Chicken Ramen, we developed "Canned Chicken Ramen" a product that can be stored for up to three years, in preparation for disaster response. We donated 100,000 units to Osaka prefecture, Osaka City and Ikeda City.
Project No.02 (October 2008 - August 2014)
The "Idle to Idol" In-House Project
The NISSIN FOODS Group employees 50 years or older are encouraged to qualify as instructors of activities that enable people to enjoy nature. The goal is that once they retire, they will not be idle, but contribute to society in many ways.
Project No.01 (February 2008 - January 2013)
The Kenya Oishii Project
The project was meant to be more than food aid through launching a new food industry based on Africans making and distributing their own instant noodles. With Jomo Kenyatta University of Agriculture and Technology (JKUAT), NISSIN FOODS HOLDINGS adapted noodles for local tastes, developed manufacturing technologies and supplied 62,950 servings to school children. In 2013, JKUAT NISSIN FOODS LTD. began selling NIISN Noodles. In June 2018, NISSIN FOODS HOLDINGS donated the factory building and manufacturing equipment to JKUAT.