Establishing a Human Rights Policy
The NISSIN FOODS Group respects the rights of all human beings that are impacted by Group business activities, based on one of the tenets of the philosophy of the founder, Shoku-I Sei-shoku (Food related jobs are a sacred profession). In April 2018, the Group established its policy on human rights. Concurrently, the Group also revised its code of conduct of the ethics regulations to state that "the Group will uphold internationally-recognized human rights protection standards as well as respect the basic human rights of all people and will not conduct itself in a manner that will damage the dignity of an individual."
Promotion structures for the respect of human rights
NISSIN FOODS HOLDINGS set up a human rights working group under the auspices of the Sustainability Committee, which is chaired by the CEO of. This working group implements measures related to the respect of human rights.
Organizational structure of the Sustainability Committee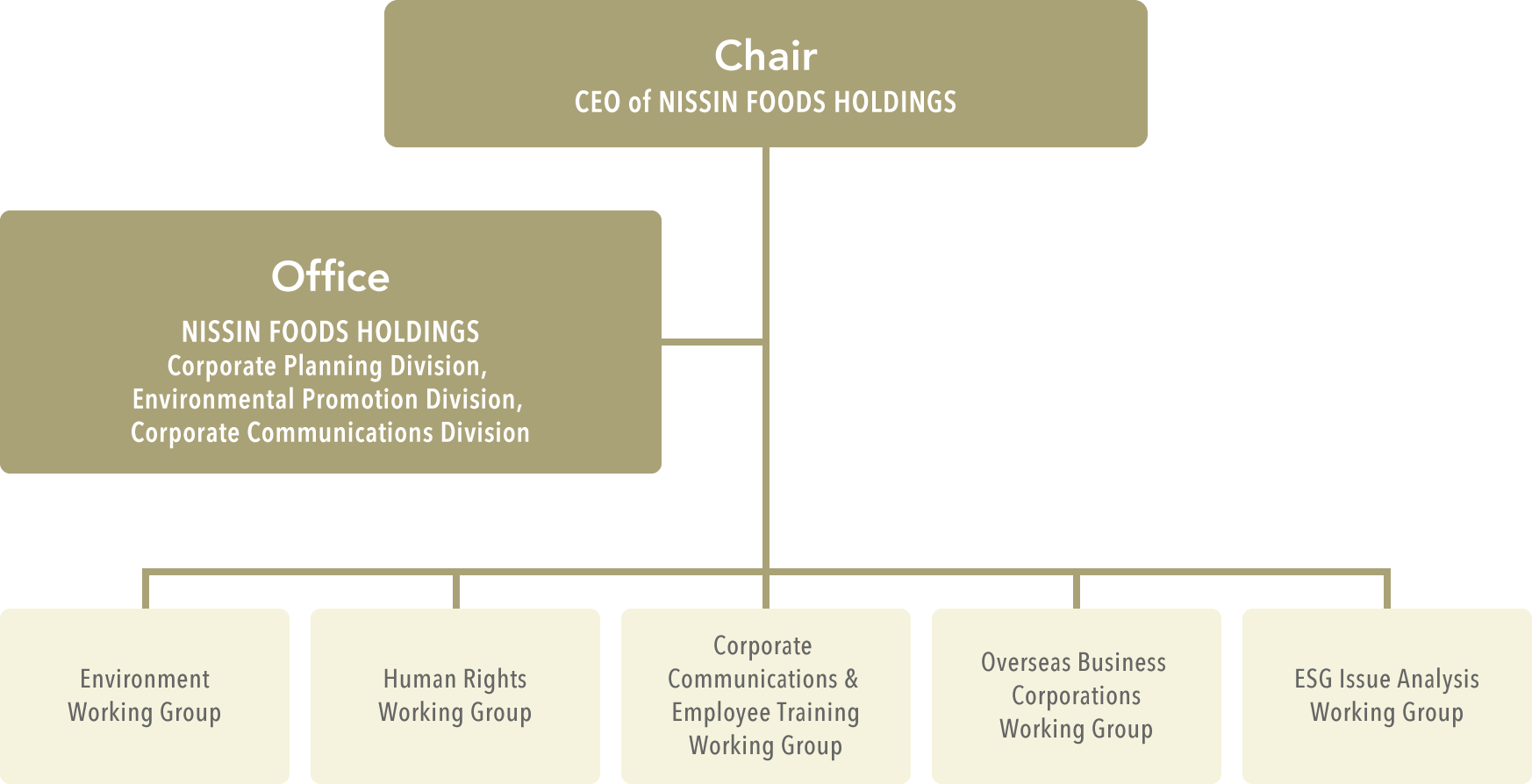 System for reporting to management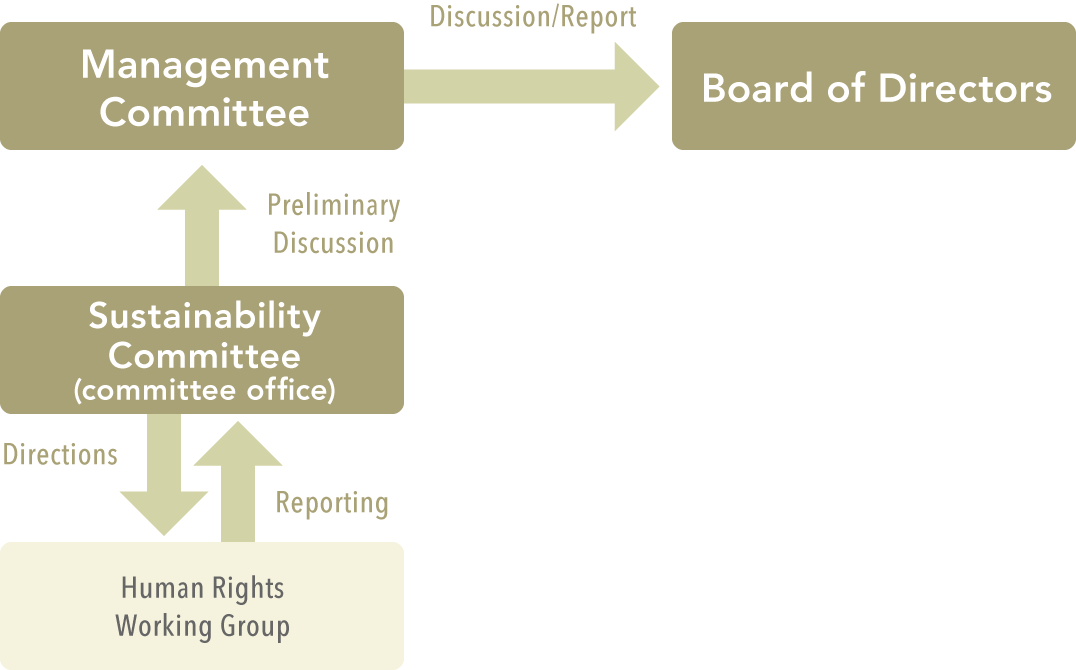 Identifying Human Rights Risks and Due Diligence
The NISSIN FOODS Group, in accordance with the United Nations Guiding Principles on Business and Human Rights, is implementing initiatives to carry out human rights due diligence*. In fiscal 2020, a human rights risk assessment (evaluation of the underlying risks to human rights from business activities) was conducted to identify human rights risks that the Group should take priority undertaking.
In addition, enlisting the cooperation of Caux Round Table (CRT) Japan, the Group implemented a human rights risk assessment with the goal of incorporating the perspectives of its stakeholders and fulfilling global standards. Furthermore, the Group worked with CRT Japan to look into methods to reduce the identified human rights risks.
Going forward, the Group will continue to strive for the early detection and prevention of human rights abuse cases by regularly conducting human rights risk assessment.
*

Process of implementing a survey to grasp in advance how one's company negatively impacts human rights and continually implementing measures to prevent or improve said negative impacts.
Human rights risk assessment procedures
Step 1

Surveyed human rights risks in all countries and regions in which the Group deploys business activities and widely extracted potential human rights issues.

Step 2

Held a workshop in which the departments related to extracted issues participated (NISSIN FOODS HOLDINGS resourcing unit, HR Division, Compliance Committee, Corporate Planning Division, Corporate Communications Division Sustainability Promotion Office). Made an assessment of impacts to society through hearings and discussions.

Step 3

Based on the results of Step 2, identified "grasping the work environment for non-Japanese employees at domestic group companies" and "strengthening the supply chain management system in regions in Asia" as priority human rights themes. Moreover, assessed it was necessary to build a system to survey the actual conditions of these risks.
Identified human rights risks
1. Grasping the work environment for non-Japanese employees at domestic group companies

In June 2020, in cooperation with CRT Japan, a n anonymous questionnaire survey was conducted on 60 non-Japanese employees at two manufacturing plants.
(*The majority of those surveyed were technical trainees but also included permanent non-Japanese residents and spouses.)
Given the results of this survey, there were no issues that needed to be immediately handled. However, it did confirm that there were matters related to the structure and systems for hiring non-Japanese employees for which further improvement would be desirable. The Group plans to confirm improvements of the issues raised at these two plants. In addition, a system will be developed to enable non-Japanese employees to more freely convey their opinions to the company and efforts will be made to create a more comfortable working environment.
2. Strengthening the supply chain management system in regions in Asia

In fiscal 2021, the Group plans to grasp concrete issues and build an assessment system by visiting suppliers in major regions in Asia and carrying out an exchange of opinions locally.
To alleviate there two risks, the Group will continue to obtain the cooperation of CRT Japan to incorporate the perspectives of its stakeholders while conducting detailed surveys (monitoring), reviews and improvement measures at related business sites in fiscal 2021. Also, the Group aims to fulfill its accountability by disclosing the progress it is making.
Given that the raw materials used by the Group could have underlying issues related to human rights and labor environments, suppliers that provide these raw materials are positioned as high sustainability-risk suppliers. Meanwhile, matters concerning human rights are confirmed during the supplier audit. Members of the NISSIN FOODS HOLDINGS resourcing unit and Sustainability Committee are scheduled to locally visit suppliers determined to have a high sustainability risk and implement an assessment based on international standards.
Employee Awareness Activities
The policy on human rights and the concept of respecting human rights is being instilled into the management and employees of the NISSIN FOODS Group. In particular, key themes being undertaken are sexual and power harassment. Measures and the internal whistleblowing system are introduced during the compliance training the Group implements every year. Furthermore, in fiscal 2020, training was conducted for all executives and managers to learn about the concept of unconscious bias—which may be a factor preventing diversity and inclusion in the workplace. During training, discussions were held on methods for dealing with this. In addition, lecturers were invited from outside the Group to speak on human rights to the executives of the NISSIN FOODS HOLDINGS.